Regular price
Rs.1,699.00 PKR
Regular price
Rs.2,999.00 PKR
Sale price
Rs.1,699.00 PKR
Unit price
per
Sale
Sold out
15 people currently viewing this product.
Features:
PU leather material, durable.
Solid color design, simple and stylish.
Lightweight and convenient, with multiple compartments,
you can place large earrings, brooches and other daily necessities.

The ring groove holds 6 rings or several pairs of earrings.
Specifications:
Material: PU
Color: pink, green, white
Size: 100x100x55mm/03:00
Net weight: 120g
A jewelry organizer box is an essential accessory for those who appreciate the beauty and artistry of fine jewelry. It serves as both a practical storage solution and a stunning display piece, allowing you to keep your cherished jewelry collection organized and protected while adding a touch of sophistication to your vanity or dressing area. This detailed description will introduce you to the world of jewelry organizer boxes, highlighting their design, features, and the benefits they offer.
Luxurious Exterior: The exterior of a jewelry organizer box is often a work of art in itself. Crafted from high-quality materials such as premium wood, leather, or acrylic, these boxes exude opulence and elegance. The choice of materials may vary to suit different tastes, but each one is selected for its durability and aesthetic appeal.

Exquisite Detailing: Many jewelry organizer boxes feature intricate detailing, such as hand-carved patterns, embossed designs, or metal accents. These details not only enhance the overall aesthetic but also add to the uniqueness of each box.

Compact and Portable: These boxes are designed to be compact and portable, making them perfect for travel. Some even come with a built-in handle or a secure closure mechanism to ensure that your precious jewelry remains safe and secure while on the go.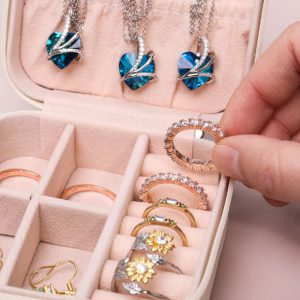 Velvet Lining: The interior of a jewelry organizer box is often lined with soft, plush velvet in a variety of rich colors. This lining not only adds a luxurious feel but also protects your jewelry from scratches and damage.

Multi-tiered Compartments: Jewelry organizer boxes are ingeniously designed with multiple compartments and trays. You'll find spaces for rings, earrings, necklaces, bracelets, and watches. These compartments are often adjustable or removable, allowing you to customize the layout to suit your collection.

Ring Rolls and Earring Holders: Specialized sections like ring rolls and earring holders keep your rings and earrings organized and prevent them from tangling. Some boxes even have dedicated slots for stud earrings.

Mirrored Lid: Many jewelry organizer boxes have a mirrored lid, which serves a dual purpose. It provides a convenient place to admire your jewelry and serves as a handy mirror for getting ready.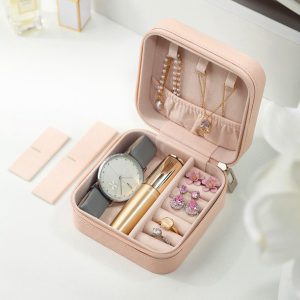 Features:
Locking Mechanism: For added security, some jewelry organizer boxes come with a locking mechanism, ensuring that your valuable pieces remain protected.

Drawer and Hidden Compartments: Some models feature hidden compartments or drawers for storing additional items like documents, certificates, or small sentimental trinkets.

Customization Options: High-end jewelry organizer boxes often offer customization options, allowing you to choose the exterior material, color, and interior layout that best suits your style and needs.
Benefits:
Organization: The primary benefit of a jewelry organizer box is its ability to keep your jewelry collection organized and easily accessible, reducing the risk of damage and loss.

Protection: The soft interior lining and secure compartments protect your jewelry from scratches, tarnishing, and other forms of damage.

Display and Aesthetic Appeal: These boxes double as stunning display pieces, adding a touch of sophistication and luxury to any room.

Convenience: With everything neatly organized and within reach, selecting and matching your jewelry becomes a breeze, saving you time and effort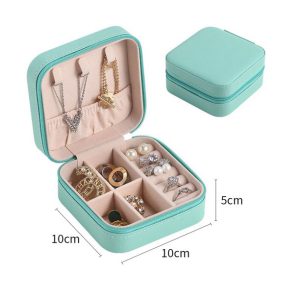 Share
View full details