Regular price
Rs.2,499.00 PKR
Regular price
Rs.4,999.00 PKR
Sale price
Rs.2,499.00 PKR
Unit price
per
Sale
Sold out
15 people currently viewing this product.
✈️ Estimated delivery time: 3-5 days.
Discover the ultimate skincare tool to achieve a radiant and youthful complexion. The Ultrasonic Skin Scrubber is a cutting-edge device that harnesses the power of ultrasonic vibrations to exfoliate, cleanse, and rejuvenate your skin like never before. Say goodbye to dull, tired skin and hello to a healthier, more vibrant glow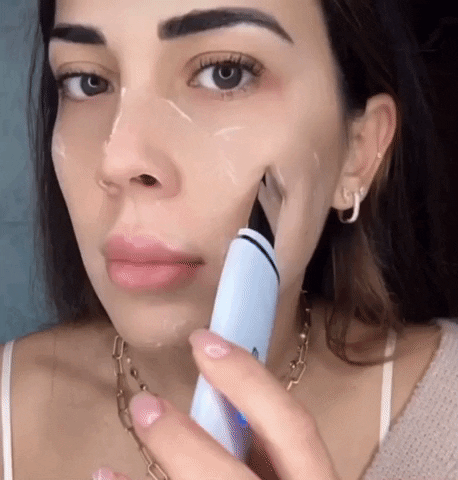 Ultrasonic Exfoliation: The device uses high-frequency ultrasonic vibrations to gently and effectively exfoliate the outermost layer of dead skin cells, revealing a fresh and radiant complexion beneath.

Deep Cleansing: The ultrasonic waves penetrate deep into your pores, dislodging dirt, oil, and impurities to give your skin a thorough cleanse. Say goodbye to blackheads and clogged pores.

Enhanced Absorption: By removing the barrier of dead skin cells, the skin scrubber allows your skincare products to be absorbed more efficiently, maximizing their effectiveness.

Painless and Non-Invasive: Unlike traditional exfoliation methods, the Ultrasonic Skin Scrubber is painless and non-invasive, making it suitable for all skin types, including sensitive skin.

Compact and Portable: Its sleek and compact design makes it easy to carry in your purse or travel bag, ensuring you can maintain your skincare routine wherever you go.

Customizable Settings: The device offers adjustable intensity levels, allowing you to tailor your skincare routine to your specific needs and preferences.

Rechargeable and Eco-Friendly: Say goodbye to disposable exfoliating pads. The Ultrasonic Skin Scrubber is rechargeable, reducing waste and saving you money in the long run
Experience a new level of skincare with our Ultrasonic Skin Scrubber. This cutting-edge device harnesses the power of ultrasonic technology to rejuvenate your skin, leaving it looking and feeling smoother, healthier, and more radiant than ever before. Say goodbye to dull and tired skin and say hello to a refreshed and youthful complexion
Benefits:
Youthful Glow: Achieve a youthful and radiant complexion by removing dead skin cells, revealing smoother and brighter skin.
Reduced Acne and Blemishes: Deep cleansing helps minimize acne breakouts and reduces the appearance of blemishes.
Improved Product Efficacy: Enhance the effectiveness of your skincare routine by ensuring that products penetrate deeper into your skin.
Pampering Spa Experience: Enjoy a spa-like experience in the comfort of your own home.
Suitable for All Skin Types: Safe and effective for various skin types, ensuring everyone can benefit from its skincare advantages.
Convenient and Portable: Take your skincare routine with you wherever you go for consistent, beautiful results.
Invest in the Ultrasonic Skin Scrubber today and unlock the secret to healthier, more vibrant skin that turns heads and boosts your confidence. Your skin deserves the best, and our device delivers it effortlessly
Share
View full details